Proof
If you have made you way to this page, I guess you are looking for some proof that what I am telling you is true, and you really can get free gadgets just for completing a free, or very low cost offer.
The best place to start when looking for freebiejeebies proof is this little box below. This box displays an rss feed (a real time update) of what is being posted on a forum called eXceem. eXceem is an online community of a few freebie gatherers such as myself, who together have amassed probably close to £0.5M – yes that's half a million pounds – worth of free iPhone's, free PS3′s, free Xbox 360′s, and other freebies over the past few years.
To view more information, just click one of the links in the box to be taken to the full post in eXceem. While you are there, have a read around the forums and learn even more about freebiejeebies proof.




As Shown By…
What follows is a small collection of high profile and trustworthy sources that have approved this free gadget acquiring method. While they do not all talk specifically about freebiejeebies proof, the system they discuss is the same one we use to get you your free gadgets.


T3 Magazine
With popularity picking up fast, freebiejeebies proof was recently found in the UK based T3 Magazine in their 'Gadget Blagger's Bible' special edition in July 2008, which reviewed a number of different methods of getting free gadgets – here is a scan of the cover and article: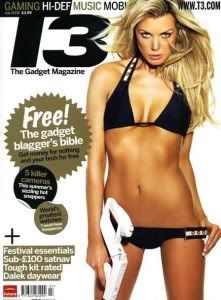 The BBC
The BBC ran a special piece on their BBC Newsnight Programme a couple of years ago, when this great method was still in its infancy. Their show focussed on the first free gadgets website that gave away free iPod's to its users. Even though this site (freeipods.com) was only open to residents of the US, the idea was born and the method has spread across the Atlantic and now, thanks to freebiejeebies, is available Worldwide. The Youtube recording embedded below is of the BBC Newsnight program.
The New York Times
The New York Times also ran a piece on freeipods.com back in 2004, although they found some negative points to say about that site in particular (regarding spam*), they did prove that the method used does work, and included a quote from one happy user who had received his free iPod in just one month, even though he was sceptical at first.
Click on the NYT logo to the right to go to the full article.
* Please note that the issue with spam was specific to freeipods.com. Freebiejeebies will never give away or sell your personal details.


Wired
Wired.com is a popular online gadgets blog that also carried out a review on this great method of getting free gadgets. This is another older review that was written when this method was very new and only available in the US – now everybody can benefit from the same system and we can ll look forward to receiving as many free iPods, PS3s, Xbox 360s and Wiis as we can handle! Click on the logo to go to the article.